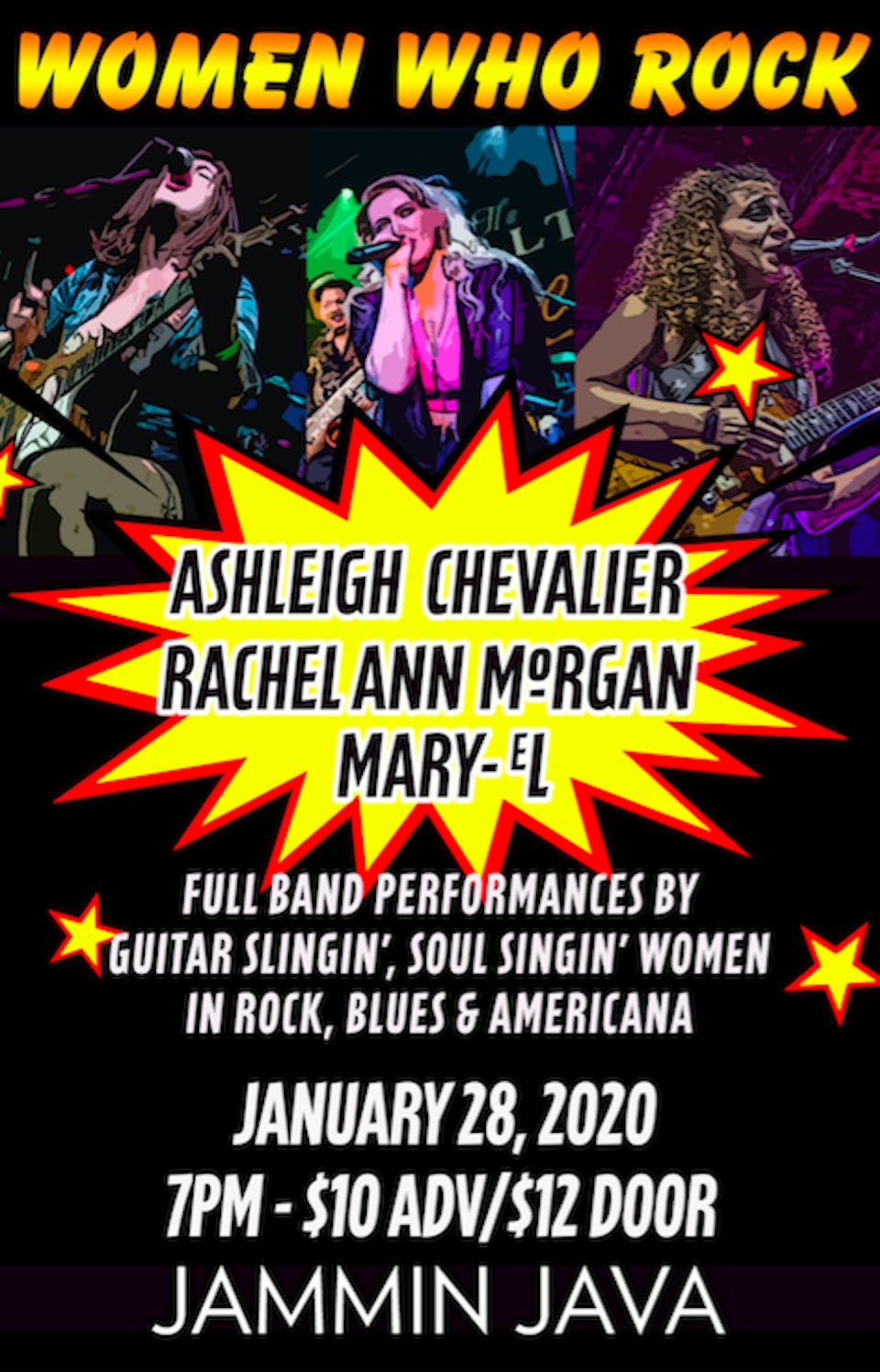 Women Who Rock - Ashleigh Chevalier + Rachel Ann Morgan + Mary-eL
$10.00 - $12.00
Sales Ended
Advance $10 | Day of $12
• Full dinner and drink menu available
• The Premier Plus section is a raised area with great views and reserved seats and tables. There is a dedicated server for faster service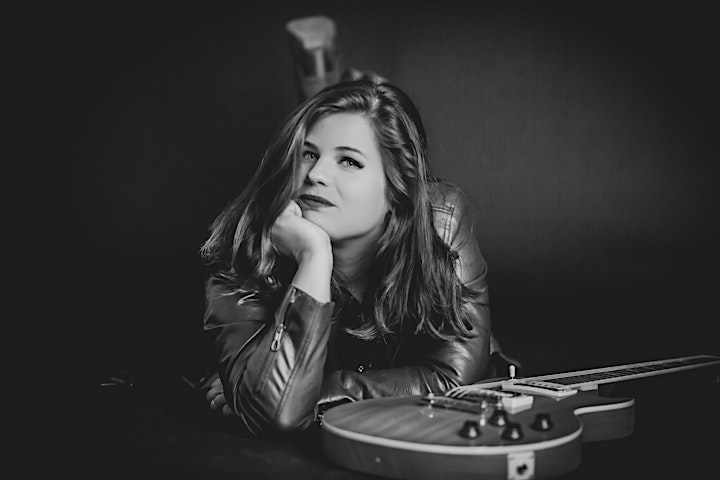 Ashleigh Chevalier fuses her own brand of roots music, with rock, blues, and gritty songwriting. Her dynamic, powerhouse vocals and fiery, unforgettable stage performances never cease to captivate audiences.Most who hear her say they have never heard a voice quite like it. Her band expresses its fresh and funky flavors with Toby Fairfchild on drums (Keller Williams), Tom Beaulieu on guitar, Gary Grainger on bass (John Scofield, Acoustic Alchemy), and Michael Wathen on keys (Covered with Jam). Her band has performed all over the region at major venues and festivals.
Her long awaited genre bending roots rock album, Burnin' Down will be released early 2020. This recording captures the core of the blues and highlights Chevalier's heart for collaborating. It will feature special guests Ron Holloway, Linwood Taylor, Lisa Lim and Sol Roots. This is trailing on her Wammie Nominated album, From the Soles produced by Grammy Winner and DC legend Jon Carroll.
Chevalier has spent the entirety of her music career experiencing the genres as they existed, from classical opera to country, on to blues and jazz, reggae, and rock - all the while digging her heels into the rich heritage of roots music, singing from her soul every time and peeling away the layers of life with each note. She is a seasoned performer having performed for royalty, in intimate house concerts, and on stages big and small.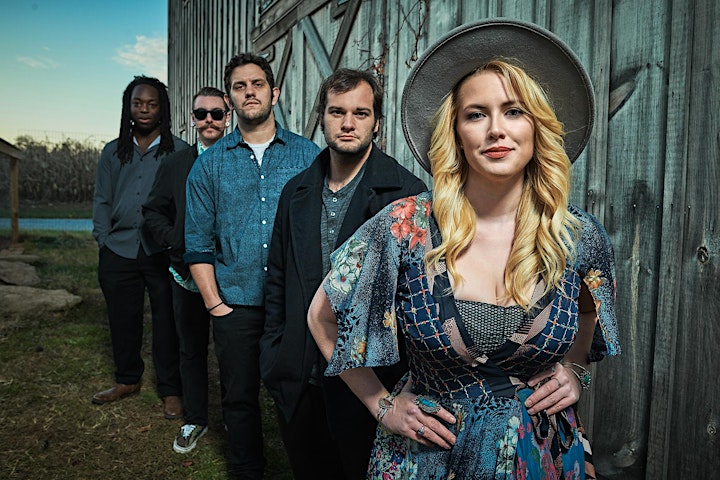 Rachel Ann Morgan is a singer/songwriter in the Baltimore & DC area. Her strong background in musical theatre gives her a unique stage presence and ability to shift between different genres of music. Although she works on multiple projects from electronic to funk, her heart lies with blues, rock, and soul music. She has been working with a variety of different groups writing and creating original music; most recently with The Ron Holloway Band and her newest project, The Rachel Ann Morgan Band (R.A.M. Band).
Prior to entering the live music scene, Rachel had been involved in local community and professional theatre in the greater Baltimore area for over 20 years. She has had extensive dance and vocal training from the Nicole Gait Center for the Performing Arts, the Baltimore Actors Theatre Academy, and Towson University as well as performed with such companies as Toby's Dinner Theatre, Oregon Ridge Dinner Theatre, Milburn Stone Theatre, York Little Theatre, and many others.
Since jumping into the live music scene, Rachel Ann has had the opportunity to share the stage with many note-able musicians such as Warren Haynes (ABB, Gov't Mule), Ron Holloway (Warren Haynes Band, Susan Tedeschi Band), Matt Abts and Jorgen Carlson (Gov't Mule, Planet of the Abts), Susan Tedeschi (Tedeschi Trucks Band), Jack Pearson (Allman Brothers Band) as well as many up-and-coming musicians in the DC blues/rock scene, and continues to stay busy with her own group as well as occasionally joining many other local blues/rock favorites!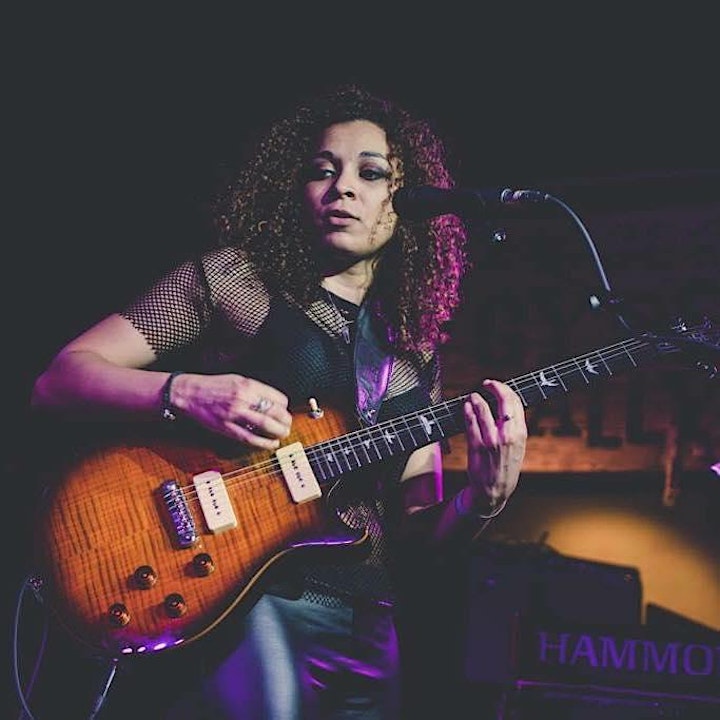 "Coming with a siren's voice and wielding a soulful guitar, Mary-eL brings a blend of original music steeped in the sounds of rock, r&b, soul and funk. It is sure to be a night full of searing rhythms and cutting leads as the sexy, sultry Polynesian phoenix lights up the stage!" - M.Joyce

A singer-songwriter and guitarist from Alexandria, Virginia by way of Indianapolis, Mary-eL is injecting edgy rock and soul into the DMV music scene. This Jill-of-all-trades has hosted her own radio show, acted in short films, co-hosted local TV programs, is a highly sought-after studio session vocalist, and is well known for her energetic stage presence.

Over the past few years Mary-eL has shared stages with numerous greats on many occasions including the time she performed with John Kadlecik (Further, Dark Star Orchestra), Ron Holloway, and Beau Sasser (Kung Fu) at the 2015 Peach Festival, sang background vocals for Melvin Seals & the Jerry Garcia Band at the 2015 Lockn Fest, and even had the privilege of performing with Roger Waters (Pink Floyd), G.E. Smith (Saturday Night Live, Hall & Oates), Tom Morello (Rage Against the Machine), and Billy Corgan (Smashing Pumpkins) at D.A.R Constitution Hall in 2015 for a benefit concert to aid the wounded veterans of MusiCorps! That same year she embarked on a 6-week, 27 city tour with The John Kadlecik Band as both a vocalist and guitarist. In July of 2016 she opened for the legendary Allman Brothers Band drummer, Butch Trucks & the Freight Train Band! Her most recent notable gig was in June of 2018: a 3-night run with Melvin Seals (Jerry Garcia Band), John Kadlecik, Jay Lane (Primus, Rat Dog), and Robin Sylvester (Ratdog)!

"A mesmerizing performer!" - M. Smith

As an original artist she has performed in many popular venues around the local scene such as Rams Head Live & Rams Head Onstage, Black Cat, Union Stage, Pearl Street Warehouse, DC9, Rock and Roll Hotel, the 8x10, State Theater, Howard Theater, Baltimore Soundstage, Hard Rock Cafe DC, AMP by Strathmore, and even the French Embassy! A few of her songs have been played on various radio stations and programs including Ocean 98.1 FM, KNHR: No Hits Radio (Texas/Canada), The Kitty Opal Show (UK), and the No Filter Sports Radio show.

"The next one for sure!" - Chuck Treece (McRad, HR/Bad Brains)

When she's not out performing her original music with the Mary-eL Band or providing vocals in the studio, you can see her performing from time to time with her fellow musical cohorts John Kadlecik, and Gordon Sterling & The People (the latter of which recently opened for George Clinton & Parliament Funkadelic).

No matter the venue or genre one thing's for certain: her passion for music comes through in her performance and it is both consuming and contagious!

Venue Information:
Jammin Java
227 Maple Ave E
Vienna, VA, 22180