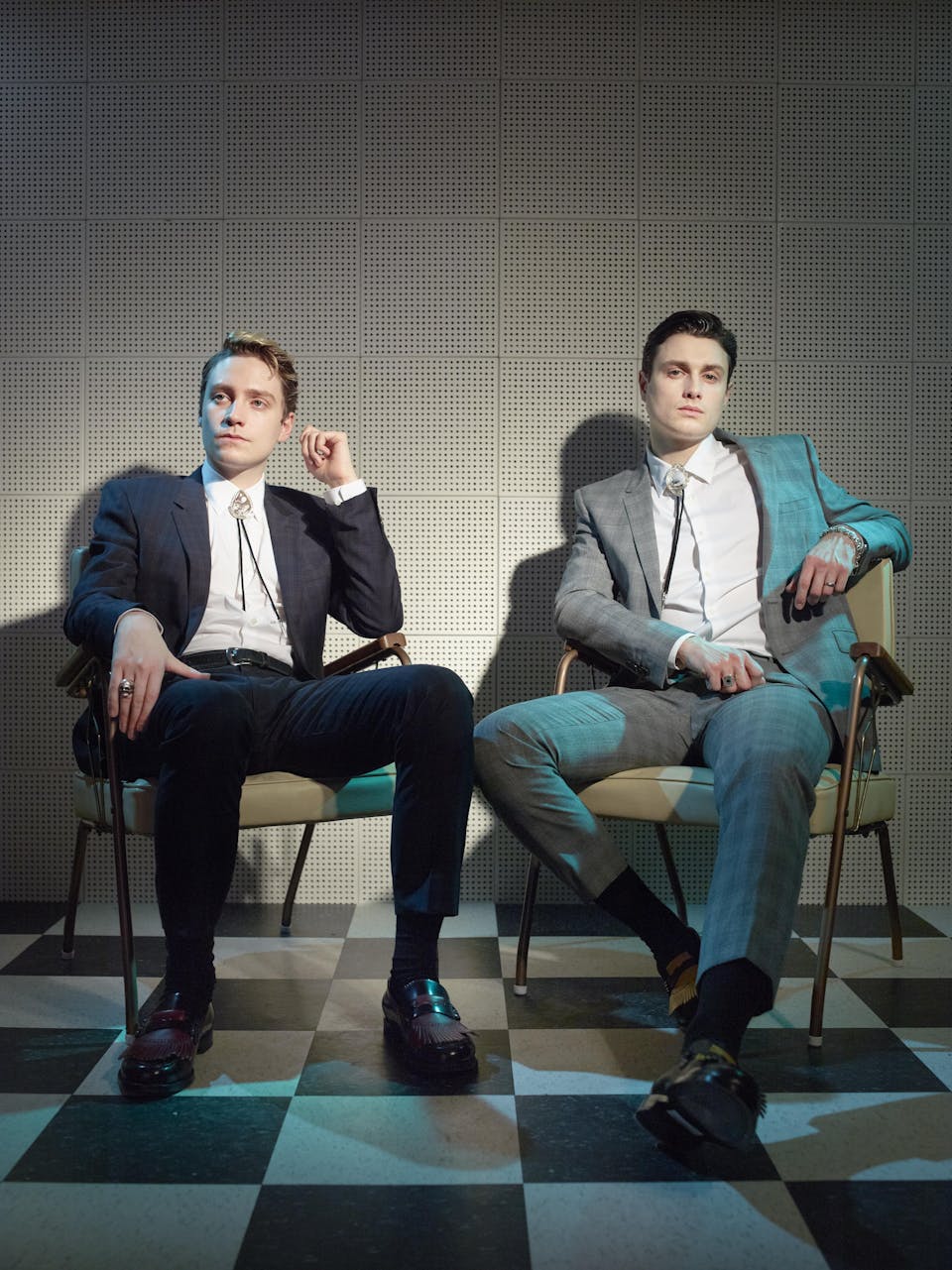 GA $15 | Premier Plus $30
Whether it's their collaboration with legendary producer Rick Rubin, kudos from the likes of Zane Lowe and the BBC, or a string of memorable performances from the hills of Glastonbury to the deserts of Coachella, multi-instrumentalist and songwriter siblings Henry and Rupert Stansall, known by their amalgam-created moniker Ruen Brothers, are making a mark with a throwback rock and roll sound that intersects the early days of the genre with a dynamic present- day act. "When we were 15, if somebody said in a few years we'd be doing all of this, we wouldn't have believed it," explains Henry of their impressive run to date which has launched them from sleepy English steel town obscurity to craft-smiths ready to make a global impact leading up to their upcoming debut album, ALL MY SHADES OF BLUE (out 6/01 via Ramseur).
Inspired by their music aficionado father who raised the duo on a steady diet of The Rolling Stones and The Everly Brothers, the two caught the performing bug at an early age, rehearsing in the family kitchen and scrounging for gigs in their blue-collar Lincolnshire hometown of Scunthorpe, England. "We'd walk into pubs and clubs as kids and ask the owner if we could play something for the local drunks at 2pm," Rupert laughs while remembering their humble beginnings. "That's how we got our first gigs. We were far away from trends, which enabled us to play whatever we wanted." As a result, the brothers perfected both their craft and stage presence while also taking inspiration from sources outside of music. Says Henry: "We're inspired a lot by film, old and new. I'd say our sound has a cinematic quality, a classic feel that harkens back to artists of the 50s and 60s."
It wasn't until a move to London and the success of "Aces," a song recorded in their studio apartment, that the boys from Scunthorpe went from pub performers to BBC radio staples. "When 'Aces' was Tune of the Week on Radio 1, that was huge for us," recalls Henry. "Then (the influential powerhouse DJ) Zane Lowe played it back-to-back, which was unheard of. It started to get a bit crazy after that." Henry and Rupert soon collected a global audience of fans, none more influential than iconic producer Rick Rubin, who quickly recognized their talent and promptly took the brothers under his wing. "I liked that their songwriting seemed like it was from another era," explains Rubin. "It's making something new again with these traditional influences. The idea was, what would a modern album with Roy Orbison and The Everly Brothers produced by Phil Spector sound like?"
Henry adds, "The album was recorded using all real instruments and a live band, resulting in a different sound than what's present in much of today's popular music." Adds Rupert of the collaboration: "It was incredibly exciting - he's worked with some of our favorite artists of all time and is such a versatile producer. He helped us recognize the strength of Henry and I playing and singing together; it was a foundation to build upon and the guidance we needed."
The brothers' artistic background and pedigree come into full focus on their debut studio album, produced by Rubin and featuring Henry on acoustic guitar and Rupert on electric and acoustic guitar, harmonica, and bass. The album also includes the talents of such boldface names as Chad Smith of the Red Hot Chili Peppers on drums, The Killers' Dave Keuning on strings, and Faces and Small Faces legend Ian McLagan on keyboards. "I was struck by their authenticity," explains Smith. "They're humble and nice guys and the songs were great."
Boasting both music and lyrics written by the boys throughout their improbable journey - from England to their current home of New York City and Rubin's famed Shangri La Studios in Malibu - the album's tender title track with its crescendo melody reminiscent of Roy Orbison, was penned during a winter night in Nashville. "We were at the home of (Kings of Leon collaborator) Angelo Petraglia. It was a dark, cold night and snowing outside; very picturesque," says Henry of the single's creation, which began with a melody and chord structure, and eventually complimented with lyrics. "It's quite a simple song, but it expresses a lot of emotion," he says.
Explains Rupert, touching on both their album and the duo's entire career: "We're very lucky in the sense that we've been able to do whatever we've wanted musically and had it all recorded to the best quality with the best musicians and collaborators. In today's industry, you don't usually get that freedom. If nothing else, we're making the music we want to make and that's enough for me. Hopefully people will appreciate and enjoy it as much as we do."
Falls
They met. They fell in love. They wrote songs.
They fought. They made up. They broke up. They wrote songs.
At a time when for most it would be the end of a relationship, for Australian duo Falls it was just the beginning. After having spent every Wednesday night for two years playing at a little hotel in Sydney called the Hollywood, the unsigned duo took a leap of faith and headed to the U.S. for the first time to play SXSW. Just a few months later, songwriters Simon Rudston-Brown and Melinda Kirwin signed a record deal with Verve (UMG), moved to Los Angeles, and released their debut album Omaha.
Falls have spent the time since it's release traversing the length and breadth of the United States, crossing continents, playing shows, and writing the songs that would become their new EP Bodega Rose.
Recorded with Grammy Award winning producer Joe Chiccarelli (My Morning Jacket, Manchester Orchestra, Alanis Morissette) at iconic Sunset Sound Recorders in LA, and largely shaped by their love of Americana music, the songs on Bodega Rose elegantly capture both the thrill and the fallout of following through on a dream. Illustrating life on the road and the feeling one gets when you no-longer know where home is anymore.
"For us, the EP feels like a shoebox full of polaroid's and postcards, notes on napkins and ticket stubs you're note quite ready to throw away," says Kirwin. "Each song is like a polaroid of a moment in time. A snapshot of place, or a person, and the feelings they evoked."
Lyrically rich and carried by this duo's gorgeous harmonies, Bodega Rose is authentic and unassuming.
Its simple melodies as accessible and sincere as the stories they complete. Falls worked closely with Chiccarelli to create a ruggedly melodic, harmony-rich sound that intensifies the power of each subtly crafted lyric. With Kirwin and Rudston-Brown sharing songwriting duties and trading lead vocals, the EP maintains a daringly raw sensibility, whether leaning toward stripped-back simplicity or drifting into more intricately layered terrain. For help in building those more lushly textured tracks, Falls enlisted the string-arranging talents of Tony Buchen (the producer behind their inaugural EP, Hollywood, which debuted at No. 2 on the iTunes Australian singer/songwriter chart upon release).
Straddling a blurred line of folk and Americana, the five-song EP moves from stripped-down singer-songwriter ballads to radio friendly pop songs.
With songs written on the streets of Sydney, New York and Nashville, the EP is inspired by the whirlwind that the bands past few years have been – where home has become the couch or spare-room of whichever friend lives in the city you currently find yourself in – even when it's the town you grew-up in. This EP-wide theme is illustrated most eloquently in the melancholy but openhearted, weary but wide-eyed track "Grand Gorge". On this song Falls offer one of Bodega Rose's most sonically stark but emotionally candid moments, with Rudston-Brown singing "and your keychain holds the memories of everyone you know".
Shifting perspective, the bright but bittersweet lead single 'On Attack', a polaroid of past lovers, illustrates a moment of awakening. "When the idea of home is illusive and you feel like you've lost your grounding, you sometimes find yourself clinging to people like life rafts," says Kirwin. "This song is about that moment when you realize that you're not drowning, you can touch the ocean floor with your feet, and you can save yourself." 'On Attack' is a no regrets, unapologetic battle cry - about forgetting one's failures and rising from the ashes. A powerful, and empowering, breakup song that beautifully captures the 20/20 hindsight of a rocky relationship. Its setting is that moment of clarity when a hesitation becomes a confident walk forward.
Showing the duo's graceful versatility, Bodega Rose finds Falls channeling Paul Simon's enigmatic storytelling on "See Another Day", and 'echoing the queen of country' Emmylou Harris on "Somebody Like You". The band close the EP with the wistful but optimist "River Runs To The Sea" a postcard from Sydney. As Kirwin puts it, "it's a message to a friend you really hope you'll see again soon – the one that feels like home" - achieving a fragile honesty that's nothing short of heartbreaking.
While the influence of luminaries Lennon/McCartney, Bob Dylan, The Byrds and Fleetwood Mac are clearly evident, the addition of Buchen's strings reflect the band's more contemporary influences, Beck and Father John Misty.
In Bodega Rose's delicate exploration of the tension between ambition and love, Kirwin and Rudston-Brown embrace a confessional spirit that suggests a lifelong pull toward the singer/songwriter role. But despite their easy sophistication as lyricists, neither band member had even sung before the two began collaborating. "We never actually planned to make music together," says Kirwin, who met Rudston-Brown while she was studying woodwind and he was studying guitar at Sydney's Conservatorium of Music. "We were just living in a house with a bunch of other musicians, and one of us would be working on something and the other would chime in with an idea. Before too long we'd written some songs together — although it didn't occur to us that we should be the ones to sing them until one of our friends recommended it."
Upon the release of Hollywood In late 2012, success came quickly for the duo. Their debut single, "Home," was added to rotation on Australian radio station Triple J, and tours with The Lumineers, Passenger and Of Monsters and Men, saw Falls fast develop an impressive live resume which now also includes performances at Sundance Film Festival, SXSW, CMJ, Bumbershoot, Loufest, The Americana Music Festival, Austin City Limits and most recently Bonnaroo and Firefly Festival.
Though the lyrical imagery of Bodega Rose mines much of its inspiration from Falls' fascination with American life, and its cities and landscapes, at the heart of the EP is a painfully tender dialogue between its two songwriters. "Our songs are at times deeply personal," says Kirwin. "They're raw, they're real, and they're very honest." There is a ubiquitous undercurrent of longing that runs throughout the record, and at times it is difficult to tell if it is for each other, or love lost in their relocation to another continent. And it's a secret that is staying firmly safe with them.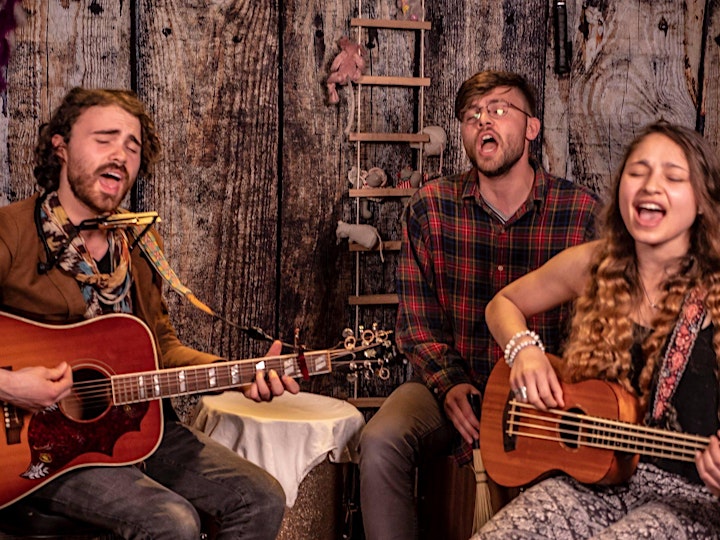 Conor & The Wild Hunt is an Folk Pop / Americana band intent on inspiring positive change in a troubled world. With artful and driving instrumentation, blooming three part harmonies, and a compelling stage presence, Conor Brendan, Chris Elvidge, and Lena Traynham animate soulful originals with modern takes on Americana traditions. This Indie band ranges from cinematic ballads to social justice themes, incorporating psychedelic interludes and explosive tribal-like passages.

Conor Brendan, 24, is a multi-instrumentalist singer-songwriter with the intent of creating positive change with visceral story-weaving lyrics using a broad range of instruments. He has been a recording artist for over a decade, writing inspiring songs about personal life experiences and troubling issues happening across the world. He has recorded over 70 songs consisting mostly of his original music. Over time, Brendan also had the pleasure of performing at Boulder Theatre with Trevor Hall, Nahko, Wookiefoot, Earth Guardians, and Tubby Love. He has also performed at other major venues such as World Café Live, Rams Head Live, The 8x10, Gordon Center Theater, Metro Gallery, Mercury Lounge, Rockwood Music Hall, The Bitter End, Oregon Ridge Amphitheater, The Cabooze, Headquarters Live, and the Altamont Theater, among others. One of his songs was also placed in the show 'Forever'. Conor is also a water protector who spent a month on the front lines of Standing Rock. During this time, he performed in multiple concerts to support the Sioux Nation, solo and accompanying Peter Yarrow.

Lena Traynham, 24, has been an aspiring musician since she was born, starting performing with her father, Harry Traynham, around the age of eleven. Continuing her vocal career as time went on, she was granted a golden ticket to Hollywood on American Idol two years in a row. This opened doors to experiences such as performing at The Orpheum Theater and the Dolby Theater in Los Angeles, California. Aside from Idol, she has had a number of recording opportunities at Cue Studios and Omega Recording Studio. She has also performed at many venues such as Lollapalooza Music Festival, Beat Kitchen, Metro, The Rock 'n' Roll Marathon at RFK Stadium, The State Theater, Part Wolf, Epicure Cafe, The National Mall, Rams Head, and many more. After graduating college with a degree in Business Entertainment Management, she continued to pursue music and quickly fell onto Conor Brendan's radar. Traynham joined Conor & the Wild Hunt in 2018 as a singer, bassist, and guitar player.

Chris Elvidge, 23, is a Baltimore/DC-based drummer. Loving music from an early age, he began playing drums at the age of six, practicing and developing his musicianship throughout school. He performed in a band called Little Bird during his early school years, which brought opportunities to perform at places like Power Plant, Baltimore Soundstage, Rams Head Live and Onstage, and many more. Earning his degree in Jazz Performance from Towson University. While a drummer first, Elvidge is a self-trained pianist and vocalist, as well. Over the years, he has played with several musicians across multiple genres, joining the Indie Folk band, Conor & the Wild Hunt, in 2017.

Venue Information:
Jammin Java
227 Maple Ave E
Vienna, VA, 22180