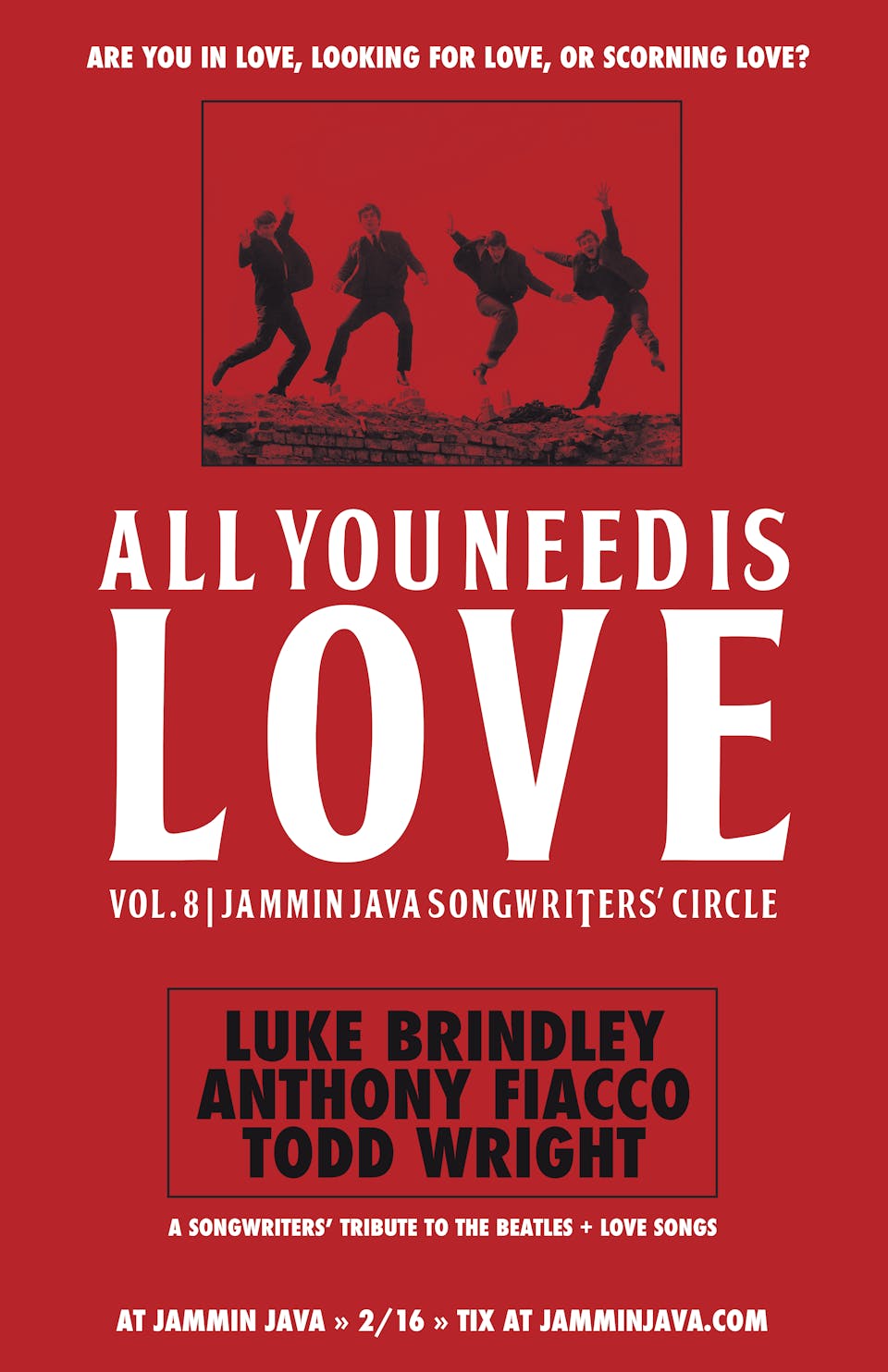 All You Need is Love 8 - Jammin Java's Songwriter Circle: A Tribute to The Beatles & Love Songs
Luke Brindley + Anthony Fiacco + Todd Wright
GA $16 | Premier $16 | Premier Plus $16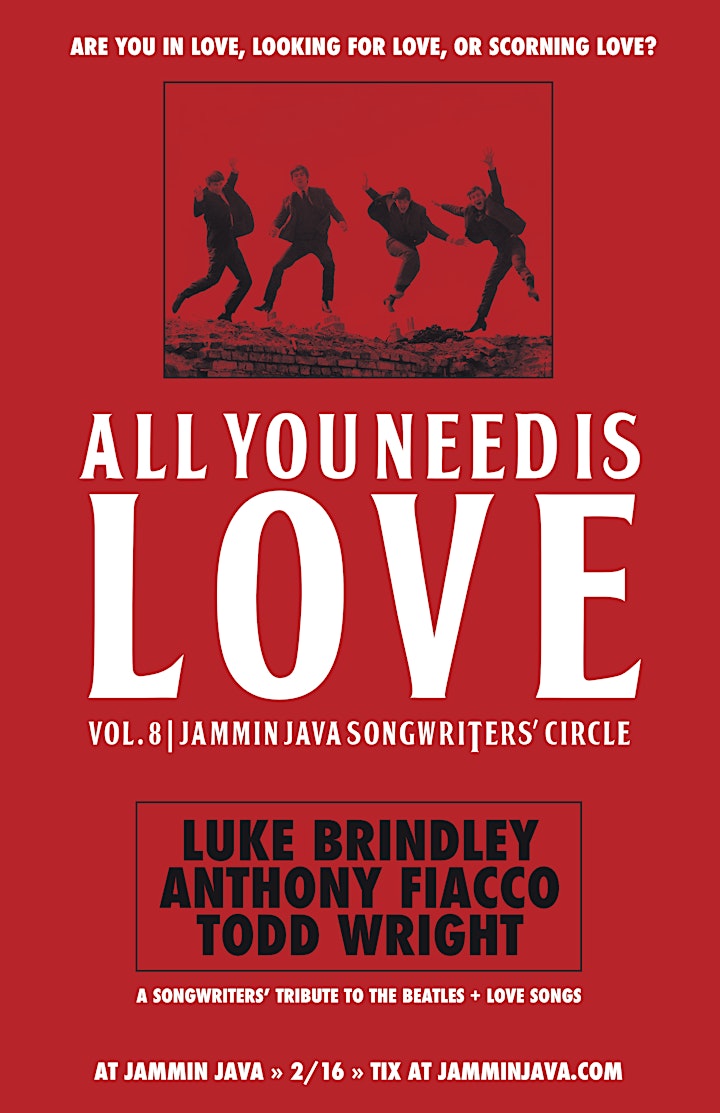 Are you in love, looking for love, or scorning love? Either way, this is how love songs are meant to be heard - intimate and stripped down. Back by popular demand for the fifth time, this is the official Valentine's tradition of Jammin Java. Anthony Fiacco, Todd Wright and Luke Brindley pay homage to the group that influenced every musician out there with covers of your favorite Beatles love songs as well as originals of their own. Three singer/songwriters sharing the stage, telling stories, and playing songs- it's like seeing the best local musicians singing your favorite songs in your living room. Celebrate Valentine's Day with original love songs or ignore it and simply enjoy classic Beatles' tunes.
Todd Wright
A prolific songwriter and energetic performer, Todd Wright has garnered numerous Washington Area Music Association Awards (WAMA) nominations including Songwriter of the Year, Producer of the Year, Pop Singer of the Year, Musician of the Year and Artist of the Year. Former lead singer of Washington, D.C.-based band Getaway Car, Todd Wright, who has toured with everyone from Pat McGee Band, Fighting Gravity, and Better Than Ezra, now focuses on producing and writing for himself and others. In addition to fronting his own pop-rock bands, he has written songs recorded by artists including Celine Dion (L'Amour Peut Prendre Froid / Certified Diamond in France) and Avicii label mates Cazzette (Blind Heart/ #1 Billboard Dance Charts). His most recent album "Year of the Dog" recorded with Ethan Mentzer is available on Apple Music.
Anthony Fiacco
Now calling Nashville home, Anthony Fiacco could most recently be found fronting The Blackjacks, a guitar-infused classic rock band. While The Blackjacks' songs are raucous and heavy, Fiacco's solo work showcases his raw vocals and captivating lyrics.
Luke Brindley
"The rambling acoustic environment of New Morning—era Dylan and the smokiness of early Townes Van Zandt…his own compelling musical voice." – Acoustic Guitar

"Digging deep and mining for the soul…One Of The Top 12 Albums of the Year" – Paste Magazine

"Magical…an early contender for one the best albums of the year." – The Washington Post

I've been obsessed with writing songs and the guitar for as long as I can remember. I married young, am an adoptive parent, and the son of a preacher man. I toured a lot for years and put out a few records as Luke Brindley, Brindley Brothers, and Native Run. I spent a lot of time in Nashville writing with some of the top writers in the business. I never quite fit into (or cared about) "the business". I grew up in New Jersey but live outside of Washington, DC. Along with my brothers, I run Jammin Java in Vienna, VA – one of the Top 100 Clubs In The World and Union Stage in Washington, DC

The songs have a definite focus on the lyrics and hopefully offer a kind of deeper perspective. I tend to gravitate toward the larger worldview questions such as, Why are we here? What are we supposed to be doing? What does it mean to know another person? To love someone?

In 2010 I released A Hidden Wholeness.

In 2011 and 2012, I released two records with my old band, Native Run.

In 2013, I released a song every week (52 songs) with producer Chip Johnson and some talented special guests.

In 2014 I released The Whiskey Switch, a stripped-down folk/americana record with Taylor Swift sideman, Mike Meadows, on mandolin and banjo and DC's Laura Tsaggaris on harmonies.

In 2015 I released Crack of Light - a fan-funded, full-band record featuring Stephen Kellogg, The Alternate Routes, Emily Hearn, Molly Parden, and more. It received airplay on SiriusXM and was featured in The Washington Post, American Songwriter, and more.

In 2016 I am releasing Invitation To Joy, an 12-song album of fingerstyle guitar instrumentals featuring special guests David Mansfield (Bob Dylan, T-Bone Burnett, Bobby McFerrin) on mandolin and fiddle, Todd Isler (Sting, Mike Gordon) on percussion, and Joe Fitzgerald (Pat Metheny, Dave Liebman) on bass.

In 2017 I released an album of Christmas songs for solo guitar.

In 2018 I released the Dream Songs EP - the first of three EPs in a series.

I'm not touring at the moment so I write and record a lot. Currently, I'm writing and recording a new fingerstyle guitar record and writing for my next record of songs, raising a family, and running some of the best clubs in the country.

Venue Information:
Jammin Java
227 Maple Ave E

Vienna, VA, 22180